Los Angeles: Chinatown
From The Original Los Angeles Flower Market we drove over to Chinatown (which is about two miles — we could have technically walked except we both parked in limited hour parking).
I love going to Chinatown simply because of the lanterns strung through the main plaza areas. And all the fun Chinese mementos you can buy.
We met up with our other friend Eugene at the Golden Dragon Seafood Restaurant for dim sum. I was really grateful Eugene knew how to speak Chinese because I have only had dim sum once before and it gets really confusing if you don't know what you're doing. They come around with carts of different food, so you kind of need to know what you're looking for beforehand, or at least be able to communicate pretty well.
That aside, dim sum is the best thing to do in Chinatown if you ever have the opportunity to go. Everything is so good! Except for the chicken legs. That wasn't my favorite.
Eugene is really familiar with Chinatown and was telling us some of the history about it like this area is technically the "new" Chinatown. The old one was just about a mile away. He also told us how there's a strong artist community that resides there now because it's a relatively cheap place to live. We had the opportunity to experience first hand some of this community when later at night there was actually an art show.
We also got to see a sort of pre-show when we were walking around the plaza area. A group of people were taking "Jerry McGuire" VHS tapes and stacking them up. We asked them what they were doing, and in preparation for this art show, they were taking this collection of VHS's and making a sort of shrine.
Before going to our next destination, I was SO EXCITED when Eugene suggested an ice cream place called Scoops Ice Cream. They have daily flavors that they list on their Twitter — I went with Root Beer. It was an amazing break from the heat and equally lovely flavor.
Near the end of the day, April, Eugene and I came back to Chinatown to experience the art show in action, including the completed shrine. And also just to get back to our cars since that's where we parked for the day.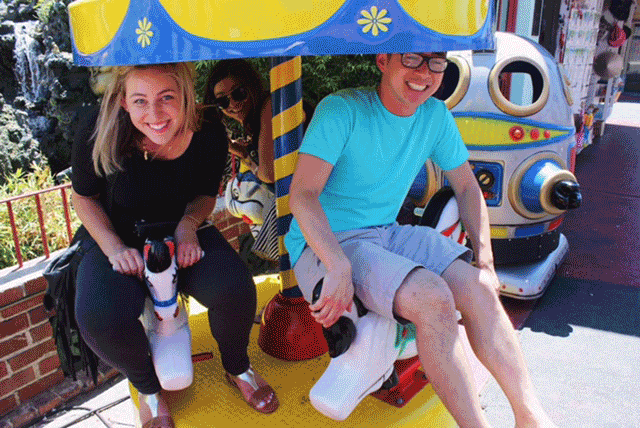 Another artist installation.